Since the turn of the decade, Nigerian music has seen great music producers like it's seen artists. Then, the soundscape has witnessed what a sustained artist-producer combo can birth. Some have blossomed into a brotherhood while others have struck out into a wasteland based on sour grapes.
These days, Nigeria is witnessing a change of guard so the new artist-producer combo will be known over the next five years. This list will mostly be reaching back into the past 21 years for content and context. It will not be limited to any genre and ideas will be renewed.
This list will document Olamond Naija's thoughts on the best artist-producer combo in Nigerian music since 1999. Some you will expect and some you will not, but because success might be unquantifiable, this list will not be ranked. From the list, you can decipher your favourites and our favourites.
Here are the criteria;
Consistency of a working relationship over three or more years
Consistency of quality outputs
Chemistry: Not just as a random link-up, but as a music–making duo.
Albums are a significant advantage
Impact as an added advantage
Honourable mention;
Wizkid and Samklef
High Point: Superstar
It's just a shame that this relationship didn't go beyond both their debut albums. Such a shame… But for what they gave us, they deserve a shout.
Cobhams and Asa
High point: Asha
After Asa and Cobhams met at Alliance Francaise in 2005, Asah pushed Cobhams to be a better version of himself as a musician and producer. Cobhams would go home every night feeling like he needed to get everything that was playing in Asa's head. The result was an alternative album that made a significant impact on the Nigerian mainstream.
You cannot argue that Asha, which was Asa's debut album, was not a classic and Cobhams produced 80% of it. He helped Asa find an appropriate balance between her European upbringing and the Nigerian sound that her music required for resonance. It's just a shame that they only sparingly worked together on Beautiful Imperfection after then.
Here is the list;
15) Reminisce and Sarz
High Point: Kako Bii Chicken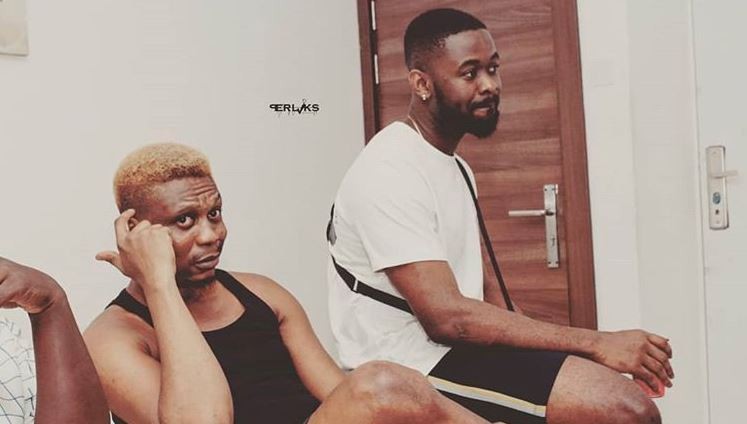 Reminisce and Sarz. (JustNaija)
We know Sarz has not produced a full album for Reminisce. However, the longevity and chemistry of their working relationship is something to behold. The first time Sarz produced a song that Reminisce got on was in 2009, Jahbless's 'Joor Oh.' The second time was the smash hit, 'Kako Bii Chicken' about 18 months later.
The quality has remained the same be it on album cuts like 'Asalamalekum,' 'Oja' or even their most recent hit, 'Instagram.' Sarz still produced Reminisce's latest single, 'Ogaranya.' That's 10 years of hits at different stages. You can't touch that.
14) Sossick and Dagrin
High Points: CEO and 'Pon Pon'
While Sossick is by far one of Nigeria's greatest ever Hip-Hop producers, this is more of a sentimental choice. On the Loose Talk Podcast, Sossick said he started working with DaGrin in 2006 after his brother Gino released his impressive debut, Pain Pulse Work, but the combo only started coming to fruition in 2009 with the release of 'Pon Pon.'
While the combo is unfortunate to have been cut short by death, C.E.O was too important as a body of work to the Nigerian Hip-Hop zeitgeist that it would be sacrilege to leave this combo out. Some will argue that Sossick didn't produce the entire C.E.O and they will be right. However, his work had the most impact. When you think of DaGrin, you don't think of any other producer than Sossick.
13) Sarz and Wizkid
High Point: Sounds From The Other Side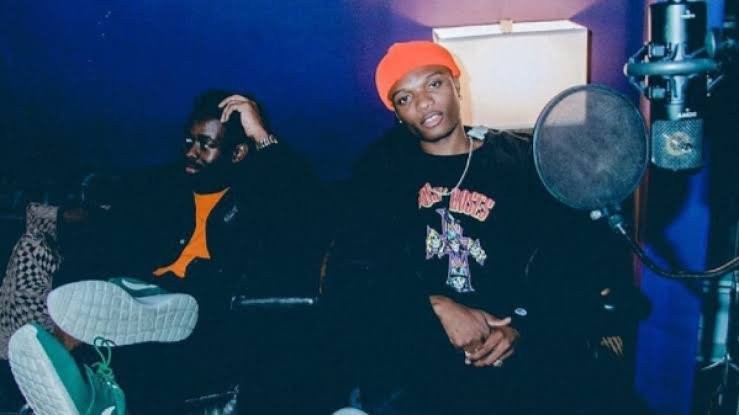 Sarz and Wizkid. (NOVICE)
This choice just about snuck its way onto this list because out of Wizkid's four bodies of work, Sarz only produced a total of five songs. Their relationship has been more about singles and mutual love and respect. But then, you have to select this combo because of what they do when they get it right.
Regardless of what you think, be it the 'Beat of Life' moment or 'Bad Energy' which Sarz made for Skepta and Wizkid, this combo was always on fire.
The longevity of their working relationship just about displaced Samklef and Wizkid from this list because that relationship only lasted for one album – even though that album is an absolute classic. Asides that, Sarz's sound basically shaped Sounds From The Other Side, but the album had minimal impact.
12) Spax and Show Dem Camp
High Point: Palmwine Music II
In the earlier days, IKON produced much of Show Dem Camp's work. As the duo of Tec and Ghost worked their way from niche market to sub-mainstream attention on their Palmwine Music franchise, Spax was their major partner-in-crime. He gave them the perfection of what IKON and Juls started when he made, Palmwine Music.
They might not have the hit and impact of the previous two albums, but the consistency they've shown in navigating the tough underbelly of the Nigerian sub-mainstream with consistently quality bodies of work is something to appreciate. It's become a habit to a level where you know Spax and SDC's next work will be another quality project.
11) Paul Play and Tony Tetuila
High Point: Morning Time
This relationship didn't really go beyond that debut album. However, in a conversation with Pulse Nigeria, Paul Play revealed what that moment caused. It came during a pivotal time in the earliest days of the heavily Hip-Hop-inspired Nigerian pop sound. The Remedies were splitting, but Tetuila shone like a million stars.
The funny part, Eedris, Tetuila and Paul Play were all still signed to Kennis Music. The moment Tetuila jumped ahead with that debut, it put Eedris and Eddy on the edge of their seats. They sought Paul Play outto come produce for them too. Plantashun Boiz also came looking for Paul Play.
While Tetuila's second album, My Car which was produced by Omololu had the bigger hits, Morning Time was the better album and its sound was a progeny in those early days.
10) Shizzi and Davido
High Point: Dami Duro
Davido and Shizzi. (Naijaloaded)
Nobody will argue with you if you said Shizzi is Davido's most-trusted music producer. You would also be right if you said based on output, Shizzi has consistently shown that he has unrivaled chemistry with Davido. 'Dami Duro' might be a pinnacle that was erected about eight years ago, but Shizzi and Davido have consistently tried to take it down.
They could have been higher, but Shizzi – like Sarz – has not significantly produced an album for Davido, even though his influence can be felt on Davido's three bodies of work.
9) Sess and Falz
High Point: Stories That Touch or Moral Instruction
Both Lawyers, Falz and Sarz met in the early parts of the last decade. While Studio Magik produced the great parts of Falz's debut, Wazup Guy, Sess came in for Stories That Touch and transformed Falz from a would-be rich kid cum funny guy and artist into a serious contender for stardom.
They didn't just make great music, they made great music on their own terms. Till this day, you only associate one producer with Falz and his name is Sess, The PRBLM Kid. Sess has continued to produce significant parts of Falz's next two albums, 27 and the smashing Moral Instruction. That's four years and three successful albums. Perhaps Sess best work was done on Moral Instruction.
In a 2019 conversation with Olamond Naija, the joked that his greatness was sealed after what he did on Moral Instruction.
8) MikkyMe Joses and Brymo
High Point: Yellow
First off, I know a lot of people will argue that Merchants, Dealers and Slaves was the high point, but Yellowis peerless with a more diversified sound. Now that we've settled that, let's proclaim that MikkyMe Joses and Brymo were the most consistent duo as regards album quality in Nigerian music throughout the 2010s.
The relationship that started in a cyber cafe has blossomed into four critically-acclaimed albums. If you want to argue, please go and play music before you act stupid. Thank you.
7) ID Cabasa and 9ice
High Point: Gongo Aso (Song and album)
Cover art for 9ice's album, 'ID Cabasa.' (Alapomeji)
You can listen to the first episode of A Music In Time by Osagie Alonge .The production, content, impact and legacy of that Gongo Aso album was discussed there. Before 9ice started shifting to Cheepho with his 2009 album, Tradition, Cabasa produced his first two albums, Certificate and Gongo Aso.
9ice was also the poster boy of the ID Cabasa and 2Phat's Coded Tunes which also included Reminisce, Seriki, Kayefi and Lord of Ajasa at different points. Gongo Aso is a classic album that formed the basis of contemporary Nigerian pop alongside The Entertainer by D'Banj, True Story by Timaya and M2M by Wande Coal.
Cabasa also named the album, 'Gongo Aso' because he felt it was more resonant. Their relationship was more a brotherhood than artist-producer. In 2017, 9ice titled his seventh studio album, ID Cabasa.
6) Don Jazzy and Wande Coal
High Point: Mushin To Mo'hits
Don Jazzy and Wande Coal. (Headies)
The truth is that this duo could have been higher on this list, but its impact was overwhelming and underwhelming at the same time. While Mushin To Mo'hits is the most important and most impactful pop album in Nigerian contemporary pop music, the best of this combo sort of died with it.
Yes, they worked together on Curriculum Vitae and other hit singles after M2M, but Wande Coal never quite hit those heights. That said, the impact was good enough to make this list. As a unit, D'Banj, Don Jazzy and Wande Coal collaborated for a classic album and even vocal riffs on 'Scapegoat' and 'Fall In Love.'
Their chemistry is only trumped by one other chemistry. It makes more sense for this to be on this list than say Wizkid and Sarz that's all about singles.
5) Masterkraft and Flavour
High Point: Anything you can think of
Masterkraft and Flavour. (YouTube/Masterkraft)
Chinedu Okolo's first album was released in 2005 – it was titled N'abania. Masterkraft is a legendary Nigerian producer who cut his teeth at Kennis Music. Together, they crafted the better parts of three quality albums of which you could argue that one is a classic and the other two, cult classics.
Both of Igbo origin, they brought their culture to the fore by blessing mainstream Nigerian with Hi-Life music that soundtracked a generation. In truth, neither Flavour nor Masterkraft get their plaudits for the work they've done and that's probably because of Lagos/mainstream bias.
4) K-Solo and Timaya
High Point: True Story
K Solo and Timaya in the early days. (Within Nigeria)
Although this relationship is now fractured, both men gave us an amazing time with quality records. Together, they built True Story and Gift and Grace into important pillars of Nigerian contemporary pop. Dare I say that it was the first wave of the now appreciated influence of Agege, Lagos on Nigerian pop culture.
That was Shepeteri ground zero and they rode it into the sunset of quality music. Mushin To Mo'hits might be a better album and Flavour and Masterkraft might have made better albums, but K Solo and Timaya made quality albums too and they had greater impact over an extended period of time.
3) Pheelz and Olamide
High Point: Baddest Guy Ever Liveth
Pheelz and Baddo in 2012. (AceWorld)
Pheelz has produced over 80% of nine of Olamide's 10 albums and those have propelled Olamide into the realms of greatness. That chemistry has also influenced the way Olamide's YBNL artists create music. In turn, Olamide has pushed Pheelz into becoming more than a pop producer – he has experimented with alternative music, has improved on sampling and even hardcore Hip-Hop beats.
At every step of Olamide's evolution, there is Pheelz on the board looking for the sonic direction. In fact, it's hard to think of Olamide without Pheelz either the 'Mr Producer' version or the 'Riddimacoolayor' version. The only reason this duo is not higher on this list is because of the sheer – national, continental and global – acclaim that the top two garnered.
No Nigerian producer has made 80% of nine albums in contemporary Nigerian music. That's just ridiculous.
2) OJB Jezreel and 2baba
High Point: Grass 2 Grace
First off, I know we can't all agree that Grass 2 Grace was the high point of this duo because Face 2 Face was just as impactful. However, when you play songs like 'One Love' and 'I Dey Feel Like' in their sonic mastery of Reggae-Fusion or 'See Me So,' you will realize that OJB Jezreel was more than a producer, he was an institution.
There are beatmakers and there are producers, OJB Jezreel helped Tuface Idibia find his path to greatness. He reached inside the conflicted Plantashun Boy and unearthed his inner madness by ravaging him with different genres of music through which he expressed himself and understood the extent of his own talent.
By 2006, Tuface Idibia stopped being a Plantashun Boy, he owned a flicking rain forest. At an event in Jamaica around 2006, the only song 2Baba performed was 'One Love' and it turned the show on its head. Together, 2baba and Jigga became genreless. How do you classify a song like 'For Instance' or 'No Shaking'? I'll answer that for you – you can't.
Some youngins will say Sarz is the G.O.A.T and that's just stupidity. Jigga was a music producer who accompanied artists on their respective artistic journeys. He could make any genre of music to an extent where he started making genreless music. What a man, what a combo.
The only type of talent that could have adequately interpreted Jigga's musicality was also 2Baba. They were perfect for each other.
1) Don Jazzy and D'Banj
High Point: Everyday they were together
Don Jazzy and D'Banj. (Premium Times)
Don Jazzy is OJB Jezreel from another tribe and with foreign influences. But otherwise, the density of their respective sonic capabilities was astounding. The only difference was that Jigga was more versatile while Don Jazzy had a great understanding of pop music and how to experiment with it to find other things.
His maiden experiment was a D'Banj who had found himself during a period with Durella. He was not as talented as 2baba, but he had a work ethic and a personality like no other. If 'vibe' was ever perfect as a description for anybody, it was D'Banj in those early days. He was so good that we didn't realize his talent deficiency.
While 2baba and Jigga never felt like a duo, D'Banj and Don Jazzy were a duo neither, but they felt like one. It was difficult to think of one without the other, even though DJ Tee created a refined version of Don Jazzy for millennials. If Jigga and 2baba created the rough format of contemporary Nigerian pop, D'Banj and Don Jazzy smoothened it for Wande Coal.
Everybody in the top two had international and global acclaim, but Nigerian contemporary pop owes more to D'Banj and Don Jazzy than to Jigga and 2baba. That's why D'Banj and Don Jazzy are No. 1.